Arts & Culture
Must-See College Art Exhibits In Boston This Fall
---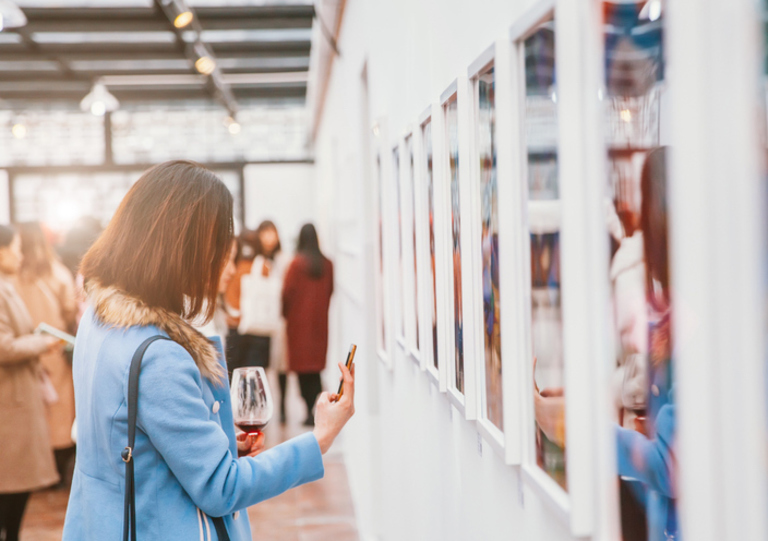 Calling all art buffs: Boston's impressive roster of colleges and universities have some equally impressive art exhibits on deck for fall. Here's four you'll wont want to miss during your stay at Studio Allston.
Not There, Not Here
Hartmut Austen; Boston College

Not There, Not Here, by Assistant Professor of Painting, Hartmut Austen, showcases a series of abstract paintings that channel the transient nature of space, and how current events have shaped their distress. Held on three levels in the McMullen atrium, this unique collection changes with the growing beams of sunlight coming through the window-lined walls. This exhibit runs from Friday, November 9th–Sunday, December 23rd.
A Litany for Survival
Alexandria Smith; Boston University

Alexandria Smith's A Litany for Survival is inspired by an Audre Lorde poem of the same name, which navigates the political implications of the black body. Smith's installation showcases figure-based paintings and drawings of the black female body through a palette of black, blues, purples, and greys. Stop by the gallery from November 8, 2018–January 27, 2019. An opening reception will be held on Saturday, November 10th.
Native American Poets Playlist: Poems in the Gallery
Harvard University

Running through Friday, November 30th, the Harvard University Peabody Museum will fuse poetry and art through an interactive, exploratory experience. Audio, drawn from a moving new anthology, New Poets of Native Nations, will fill the gallery as your browse artwork and gain a deeper understanding of Native arts and cultures. Eight different poems will be featured.
Stay outside the frame and in the know
GET ALLSTON'S INSIDER TIPS AND EXCLUSIVE OFFERS
The Beautiful Brain
Santiago Ramón y Cajal; Massachusetts Insitute of Technology

Founder of modern neuroscience and 1906 Nobel Prize Winner Santiago Ramón y Cajal's fascinating illustrations of the brain and its structures will be taking temporary residency at the MIT Museum through Monday, December 31st. The Beautiful Brain will be accompanied by contemporary visuals supplied by the MIT laboratories, connecting the past and present.
Speaking of art — have you seen Studio Allston's gallery page? Our main lobby, rooms, and in-house restaurant Casa Caña all feature eye-catching works!
---