---
Your local guide to what's happening in Boston — with a flair for the avant-garde.
Arts & Culture
Navigating the Boston Common
---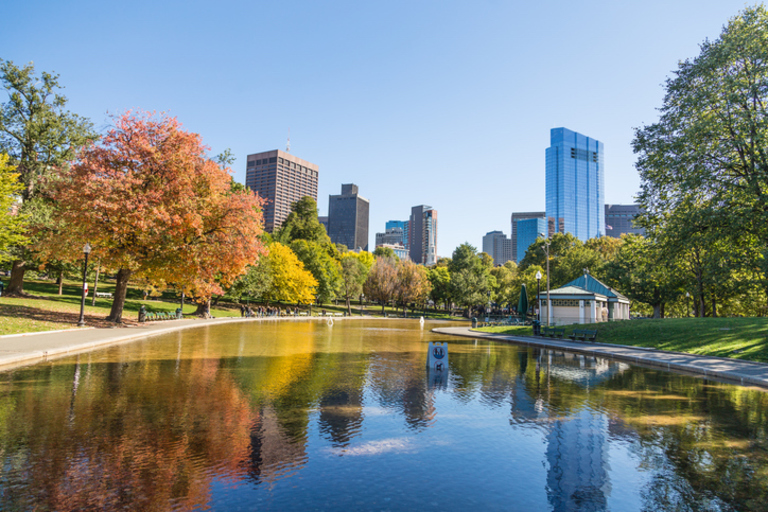 The Boston Common is a must-see when visiting Beantown. Use this guide to learn about the park's rich history, natural beauty, and historic monuments.
History
Built in 1634, the Boston Common is the oldest city park in the United States, and recognized as a Boston Landmark by the Boston Landmarks Commission. Before evolving into the park we know it as today — brimming with grassy knolls, bridges, and a frog pond — it was used as a cow pasture, burial ground, and Revolutionary war camp for traveling soldiers. Following its transformation, locals began gathering on the grounds to picnic, exercise, and attend famous concerts and speeches, featuring Martin Luther King Jr., Pope John Paul II, and Judy Garland.
Frog Pond
Located in the heart of the park you'll find the Boston Common Frog Pond. The pond is full of activities, rotating year-round with each season. Features include an ice-skating rink and skate school in the winter, a reflecting pool in the spring and fall, and a spray pool and carousel in the summer.
Historic Sites
Beacon Hill, situated in the southern portion of the park, marks the tail-end of the Freedom Trail.
The Robert Gould Shaw Memorial can be found at the northeast corner of the Common.
The Soldiers and Sailors Monument victory column on Flag Staff Hill stands to commemorate the end of the Civil War.
The Oneida Football Monument pays homage to the first USA-organized football games, played by the Oneida Football Club in 1862.
The Central Burying Ground can accessed from Boylston Street, containing famous figures such as Gilbert Stuart, William Billings, and Charles Sprague.
Events
In addition to concerts, rallies, and traveling festivals, The Boston Common also hosts the following annual and recurring events:
The Boston Tree Lighting and First Night Boston are held each December, featuring skaters from The Skating Club of Boston.
Shakespeare on the Common performs routinely at the Parkman Bandstand, along with the Boston Lyric Outdoor Opera Series.
A grand fireworks display sets off on New Years Eve.
In the spring, the Ancient Fishweirs Project builds its annual mixed-media installation, based on the archeological discovery of wooden stakes from fishweirs.

Stay outside the frame and in the know
GET ALLSTON'S INSIDER TIPS AND EXCLUSIVE OFFERS
Getting There from Studio Allston
Making your way from Studio Allston to the Common is easy. Step outside and catch the B70 bus, transfer to Red Line train at Alewife, and get off at the Park Street stop. Drop by the Visitor's Center on the Tremont Street side of the park to grab a map.
Ready to book your trip? Don't forget to take advantage of our special offers.
---