---
Your local guide to what's happening in Boston — with a flair for the avant-garde.
Boston Events & Local Happenings
Where to Spot Fall Foliage Near Studio Allston
---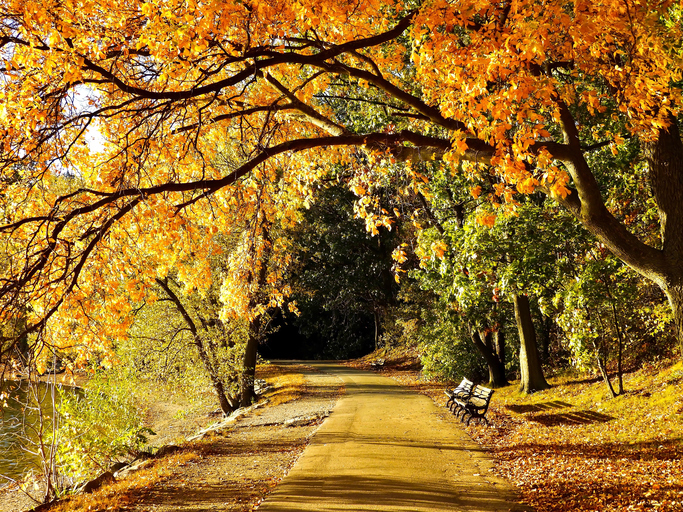 Fall foliage is at its peak in Boston! Drop by these five parks to marvel at the beauty of New England's changing leaves, right near Studio Allston!
Charles River Reservation
The Charles River Reservation is practically in Studio Allston's backyard. This urban park is located right along the river, and features a bounty of paved paths for walking, running, and skating. We suggest sitting under a maple tree and watching the sailboats pass.
Harvard Yard & The Cambridge Common
Head over to Cambridge to check out Harvard Yard and the Cambridge Common. In Harvard's famous yard (yahhh-d, anyone?), you'll spot beautifully hued foliage along with historic monuments and impressive architecture. The Cambridge Common, located just over Massachusetts Avenue to the west, is equally impressive. Listed on the US National Register of Historic Places, this grassy park has some serious credibility. There's also a bike path you can peddle down as you take in nature.
Danehy Park
Bringing your family or pup along for the foliage trip? Enjoy 50 acres of grassy space at Danehy Park in Cambridge, featuring a soccer and softball field, jogging path, and friendly dog run. Keep your eyes peeled for a roster of upcoming fall events!
Fresh Pond at Kingsley Park
In the heart of the Cambridge Highlands, just north of Allston and Brighton, you'll find the Fresh Pond at Kingsley Park, perfect for foliage spotting and gazing out on a tree-ensconced pond. The park's ranger station is also close by, with plenty of experts to educate on wildlife and conservation efforts.

Stay outside the frame and in the know
GET ALLSTON'S INSIDER TIPS AND EXCLUSIVE OFFERS
The Cenacles
Looking to mediate outdoors or take a peaceful walk in a lesser-known park? The Cenacles in Brighton features a pond and a range of walking trails for a quiet afternoon in nature. Bring a picnic basket, blanket, and book, and kick back and relax under the brisk fall sun.
If you're ready to book your fall stay, be sure to take advantage of our unbeatable offers!
---