---
Your local guide to what's happening in Boston — with a flair for the avant-garde.
Arts & Culture
Shop 'til You Drop at These 5 Vintage/Thrift Shops in Allston
---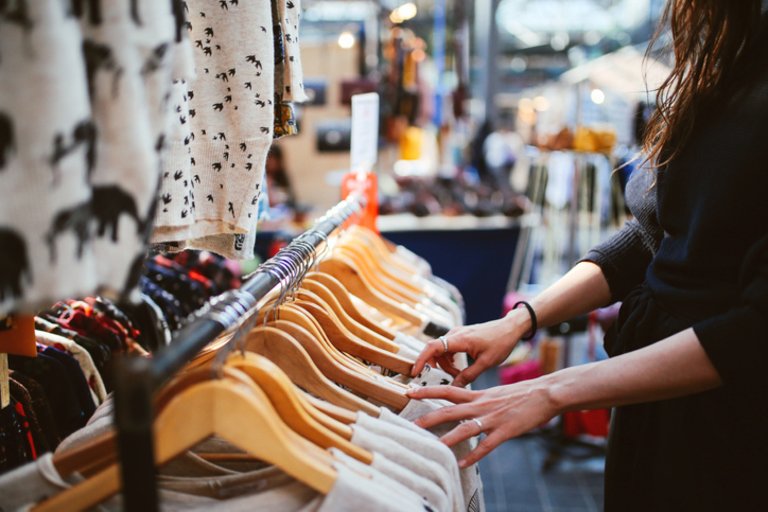 Love to shop but don't want to break the bank? Fear not! Allston is brimming with vintage and thrift stores full of unique clothes, shoes, records, and other oddities. Support our local community by shopping at five of our favorite shops!
1. Buffalo Exchange
Buffalo Exchange packs twice the punch. In addition to buying new and used clothes at a steep discount, you can also exchange your own for credit or cash. We love the location on Harvard Avenue — it reels in plenty of hip, rocker-style silhouettes, along with basic tees, jeans, and leather goods.
2. Urban Renewals
Urban Renewals is perhaps Allston's best-kept secret when it comes to thrifting. Within its endless rows of racks you can find tees, sweaters, outerwear, denim, books, and records. Plus, they run by a color-coded system with matching stickers on each tag. Every day a new color is picked, and goes for half off its listed price!
3. Viviant Vintage
Viviant Vintage's interiors (hello vintage kilim carpets and plush velvet sofas!) are just as impressive as its finely curated selection of vintage goods and artisan-made merch. Located on Lincoln Street, (just a five minute walk from Studio Allston!), Viviant Vintage aims to breathe new life and culture to the greater Boston Community through an assortment of affordable, sustainable clothing and furniture, along with glass-lined counters where artists and musicians can advertise upcoming shows and galleries.
4. Cheap Chic
If you love a treasure hunt, head to Cheap Chic. You won't find any clothes, but you will find fun do-dads and electronics from the '90s, used books, records, and other curiosities to take home and gift to friends. If you're lucky, you may even walk out with a rare vintage camera that won't drain your bank account.

Stay outside the frame and in the know
GET ALLSTON'S INSIDER TIPS AND EXCLUSIVE OFFERS
5. Goodwill
Goodwill's are abundant in every city, but the one on Commonwealth Avenue near Boston University speaks to the city's unique, edgy flair. Take your pick from leather and denim jackets, Levis, boots, and band tees. And the best part? Your money goes to a good cause.

For even more local fun, stop by some of our favorite dive bars!
---