---
Your local guide to what's happening in Boston — with a flair for the avant-garde.
Arts & Culture
The Most Colorful Places in Boston
---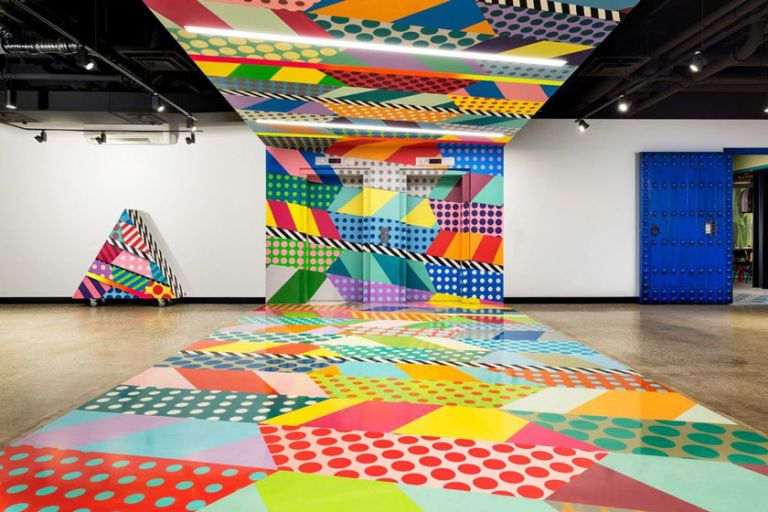 Boston may not initially strike you as a quirky, colorful and eclectic destination, however, we know better. We also know that anyone staying at Studio Allston is craving for something #OutsideTheFrame. This time, leave the Freedom Trail behind and join us on a tour to explore some of the most colorful places in Boston, all near Studio Allston.
Studio Allston

Forgive this proof of self-love, but we have to include ourselves on this list. Studio Allston has been open for less than a year, yet the hotel has already made a statement. From the moment you walk through the doors, you'll be stopping in your tracks around every corner. Our rooms and suites are decorated with unique artwork, interesting geometry and a diverse palette. We pride ourselves on our collaboration with local artists who have helped us create a hotel/art gallery that you can actually sleep in!
Graffiti Alley

Across Charles River from us is Cambridge. And nestled between Essex and Norfolk streets is Graffiti Alley (565-567 Massachusetts Avenue, Cambridge, MA 02139). While Boston hasn't quite embraced the graffiti culture, this is one of the few places where it's legal to create graffiti art. Many street artists have passed through this alley and the quality of their creations gets better and better. A good and bad aspect of it is that the artwork is constantly being painted over, so enjoy what you see while it lasts!


Mural of Middle East Restaurant and Neighborhood Club

The Middle East Restaurant and Nightclub (472-480 Massachusetts Avenue, Central Square, Cambridge, MA 02139) is a great place to visit on any given day. They serve a wide selection of fusion Middle Eastern dishes and are a music venue with live bands almost every day. And they have an incredible mural just around the corner of their main entrance (pictured above).
MIT

Whoever said science and creativity do not mix was wrong. MIT has two fun buildings, maybe not as colorful as other places on this list, but they certainly have a visual appeal. Stata Center (32 Vassar Street, Cambridge, MA 02139) is probably the most recognizable. Designed by Frank Gehry, this metal and red brick building is the epitome of inventiveness due to its zigzagging and crinkled facade that is painted yellow here and there.

Stay outside the frame and in the know
GET ALLSTON'S INSIDER TIPS AND EXCLUSIVE OFFERS
Simmons Hall (229 Vassar Street, Cambridge, MA 02139) is a bold geometric building designed by Steven Holl. Its most colorful features are the thousands of square windows with solar shading painted mostly in primary colors.
Follow the Studio Allston blog and stay creative in your next visit to Boston. Get ideas about creative classes in Boston, ways to boost your creativity and more.
---