---
Your local guide to what's happening in Boston — with a flair for the avant-garde.
Studio Allston News
Staying at Studio Allston this Winter
---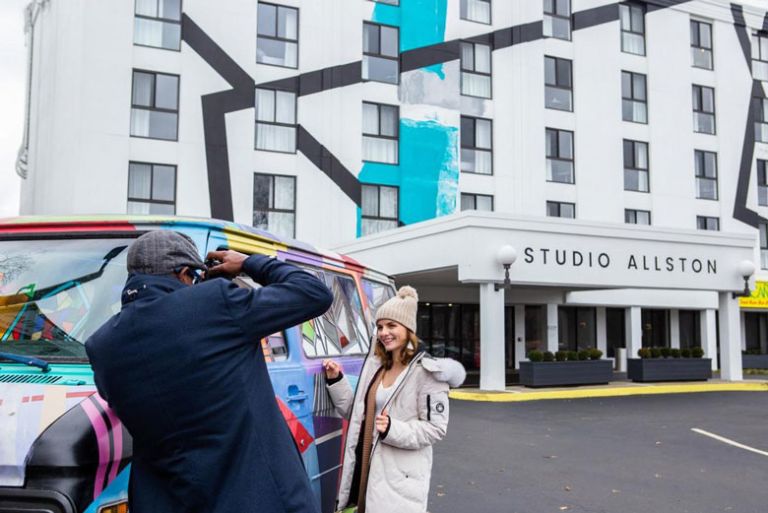 Do you tend to experience a fear of going out when winter hits? The coldest months of the year are a great time to visit Boston! Fewer crowds, lower rates and winter landscapes are but a few of the perks. What's even better is booking a room at Studio Allston.
Regular Local Artist Shows
Studio Allston is a living art gallery. Every room and every corner of our hotel was painted, designed and crafted by local artists. If you want to meet all the artists that worked on creating the most artist hotel in Boston, check out our artist profiles
About once a month, we hold gallery receptions, artist shows and interesting events that highlight the best of Boston's contemporary art scene. Take a look at the Studio Allston events page to find out more about upcoming shows.
Lively Events at Casa Caña
Casa Caña, voted the most beautiful restaurant in Boston by Eater awards, is located right at Studio Allston. This Latin kitchen, patio & rum bar that features innovative New Latin cuisine, or as the Latin Americans locals call it, "Nuevo Latino." Any given day you may come across a special tasting event, a spicy fiesta or a fun brunch. And speaking of brunch, stay tuned for another edition of the popular Drag Brunch.

Stay outside the frame and in the know
GET ALLSTON'S INSIDER TIPS AND EXCLUSIVE OFFERS
Tap into Your Artistic Skills
At Studio Allston, we understand the importance of creativity and art. We also know that it's vital to have fun while creating something! This is why we love hosting special events or classes that will teach you new skills. On January 23, 2020, join us for Paint Nite: Frosted Lake. Learn how to create the perfect wintery landscape while sampling treats. Your ticket includes all the materials!
Casa Caña will help you unleash your inner artist. On January 26, 2020, enjoy an evening of wine, cozy eats and Winter Wine Glass Painting!
What are you waiting for? Book your room at Studio Allston, get a warm winter drink and enjoy the best of Boston.
---