Arts & Culture
Outdoor Guide to Boston in Fall
---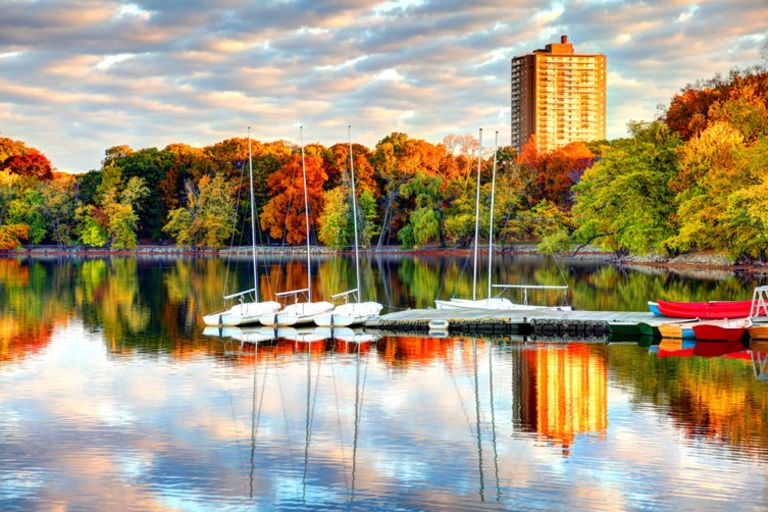 Boston welcomes fall with open arms. The cool air is a relief from the scorching summer sun while the greenery is replaced by stunning hues of fall foliage. Step outside and go for a run, hike or bike ride to see the prettiest trails in Boston. Read more in this outdoor guide to Boston in fall!
Kayaking, Rowing and Canoeing
If the Charles Regatta has inspired you to dabble into watersports, why not start with kayaking and rowing? In Boston, there's no better place to see the city from the water than Charles River. Luckily for Studio Allston guests, Paddle Boston has a location in Allston/Brighton. Choose from canoes, paddleboards and kayaks. Community Boating also offers kayaks and paddleboards for those wanting to explore the Charles River lagoon. Since the season usually runs from April to October, check the exact date when it ends.
Biking
Take part in a bit of urban biking and get all the benefits of spending time in nature. Start by bringing you own bike or using one of the Bluebikes, Boston's bike share program. There are a several stations within walking of Studio Allston. Once you have your bike, set out to explore the Charles River Path, the Arnold Arboretum of Harvard University or the Jamaica Pond loop. This is a great way to take in the fall foliage in distant sections of the city. Remember to bring a scarf or buff if the air is too cold.
Running
We've talked about fitness classes around Allston, but we also mentioned the popular Charles River Path. This iconic running route takes you through some great sights like Harvard Bridge and the Museum of Science. You can run the full 17 miles or explore smaller paths for a shorter yet scenic run.
Another option could be running along the paths of the Boston Common and Frog Pond and check the historic sights off your list. You can also cross over to the Boston Public Garden and feel like a character in Make Way for Ducklings.

Stay outside the frame and in the know
GET ALLSTON'S INSIDER TIPS AND EXCLUSIVE OFFERS
Peaceful Strolls or Picnics
Those wanting to see more of the city's parks will be treated to Boston's gorgeous fall foliage. But you don't have to go far! Our recommendations include parks and gardens located in Allston, Cambridge and Brighton. These are alternatives to the busy Boston Common and Public Garden.
Book your fall getaway to the heart of New England and stay at Studio Allston, Boston's most creative hotel.
---